Where to eat in London
I made us a TOP 10 Restaurants in London here in 2013. I went back a few times after that, went to some new places to eat, tried again some I already knew, so my list grew longer. Same thing this last week I spent there. Went back for the favorites, got to know some new ones and finally decided to redo this list, after all, it's been four years. Fair enough, right?
So let's check out what it's still worth it, what should be crossed off or remain on the old list. Ready?
Oh, it's not going to be a TOP 1o since there are 12 restaurants. I wasn't able to cross any more off. So forget about TOP 10 and let's get down to the MUST GO places to eat when you're in London. Grab your pen and paper and take note: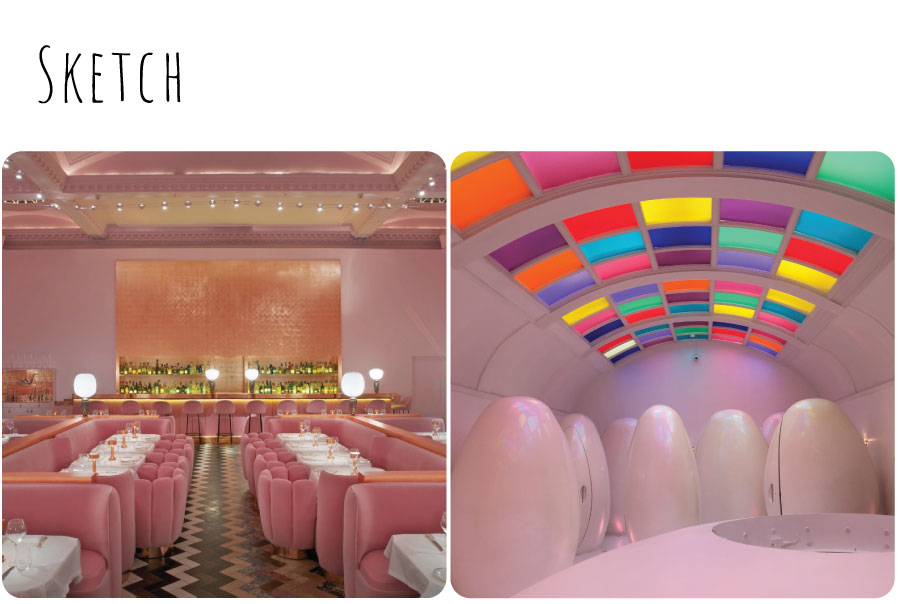 It's pretty touristy. But, yeah, it's a MUST-GO. It's such an experience.
There are several rooms, and the bar where you get to wait for your table (oh, you must book in advance!) is like a spaceship. So cool. The main room is beautiful, all pink, and the bathroom is the coolest bathroom I've ever seen, they're giant eggs. Each customer get to pee in their own egg (?). It's awesome!
The food is amazing, and so are the cocktails and the wines. Just go! Go, go, go!
I went there for lunch the first time and stayed straight for dinner, that's how incredible it is. It's super cool, beautiful people only. The weather was great, so we got a table outside, close to the fireplace, so cozy.
Food's pretty good and the bar is great too. It might be good to book in advance. It always is, right? So you don't risk missing out on the restaurant in the middle of your trip.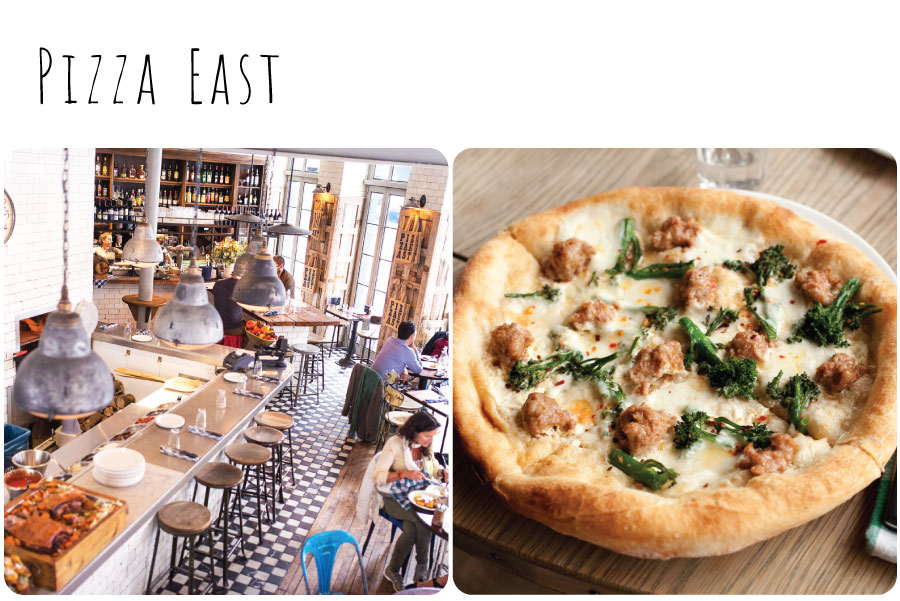 Best pizza in London. Need I say anything else?
There's one location in Shoreditch and another one in Notting Hill.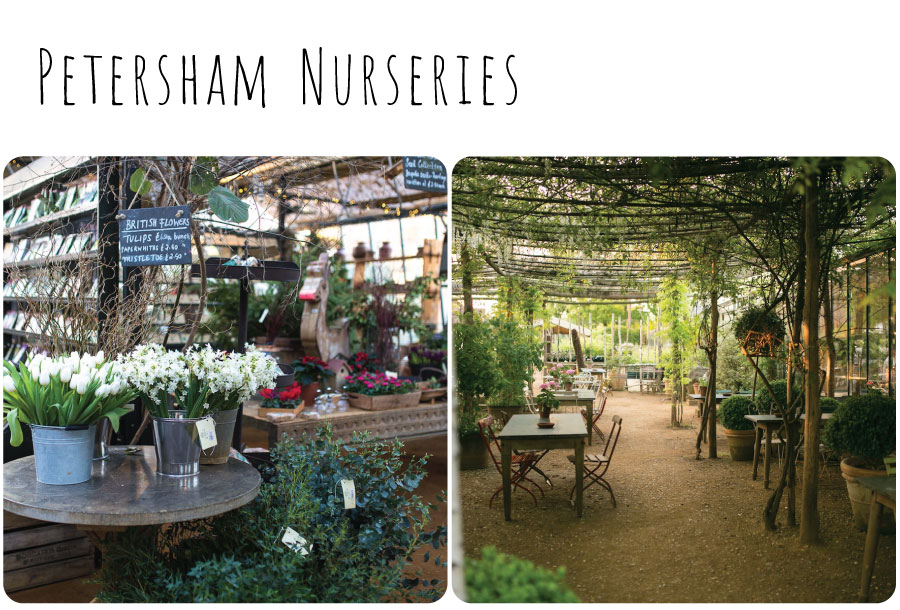 It's in Richmond, a bit far!
But it's the prettiest thing ever! It's inside a greenhouse!
Perfect for lunch followed by an afternoon stroll around Richmond Park.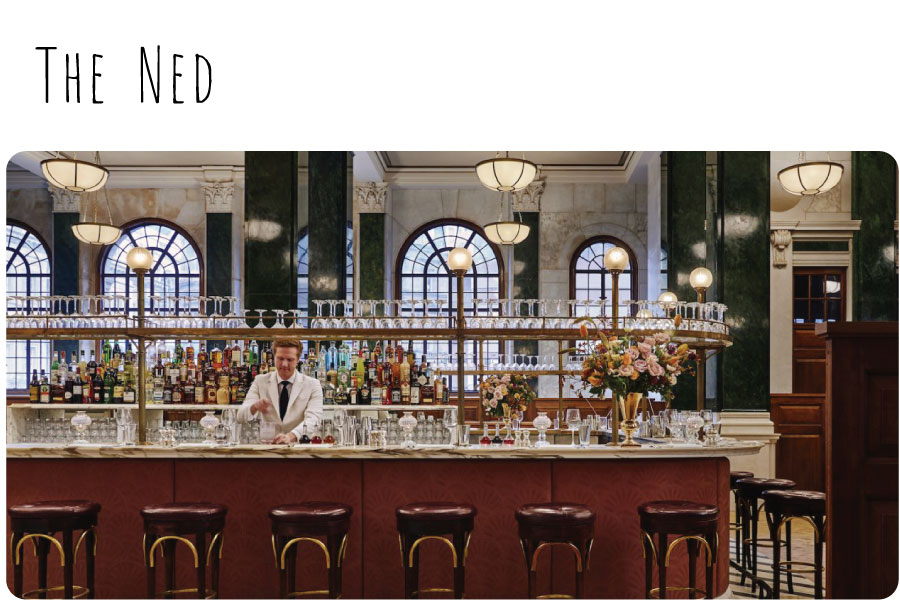 By the same investors of Soho House, it's an old bank that went through a renovation and nowadays hosts a complex with a hotel, nightclub and several restaurants, including Cecconi's – the place is unbeliveable!
A must-go!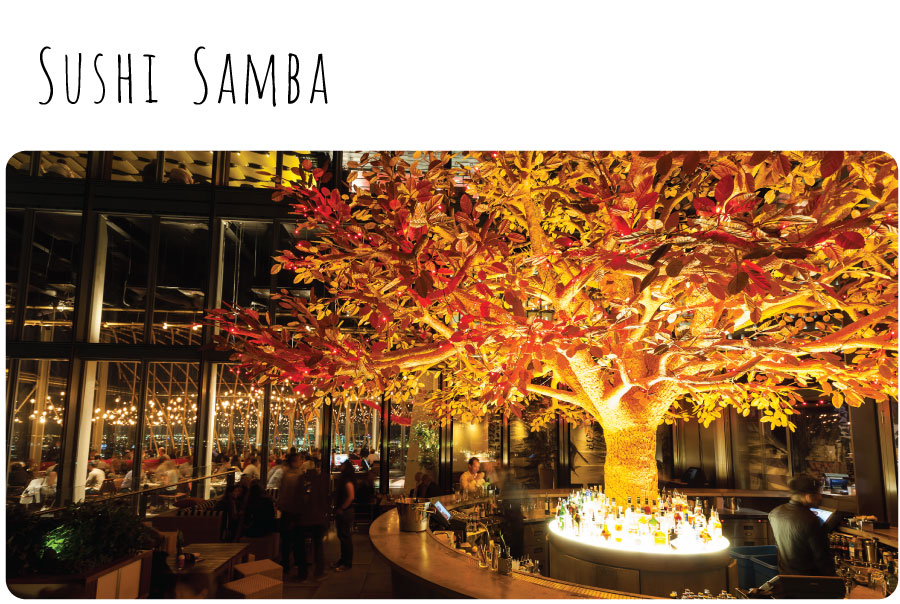 The restaurant is gorgeous and has an amazing view. This is the first one from my 2013 list I'm doing again. That's what I wrote about it the last time: I've never seen so many beautiful people in one place. Amazing food. It's on the top floor of a super high building, all made of glass, open bar, incredible. Go earlier, get there before your reservation time (reservation mandatory, as usual) and go up for a drink. So good!
Now, I wouldn't change a word I said in 2013. It may not be the trendy restaurant of the moment, but it's so cute and it has such good food that for me it's really worth it so it's still on my list.
Super super super trendy Chinese place. Try the carbonara noodles.
Another one from my previous list. But I can't ignore Zuma, right?
If I'm in a city where there's a Zuma, I'll definitely be there. Best food ever!
Again and again! Same as Nobu, we keep going back to it.
This month, I've been to the Milan, London and NY locations! I'm heading to LA this week and I'm certainly going to the Malibu one. I just can't get enough…
I had been to the Miami and New York locations. Not the London one, though.
So I guess it's like Zuma and Nobu, right? Wherever there's a Cecconi's, you can count on me!
Go for the one at The Ned's complex!
PDF NOVIKOV
I'm crazy about Novikov. One of my favorite black cods ever. And I've tried SO MANY!
PDF LA BODEGA NEGRA
Mexican spicy food. Perfect to order a bunch of tacos to share, you know?
Dim lit, the music gets louder and it turns into a kind of club. I love it there!
And, well, there some places from the old list I crossed off with a heavy heart. So, if you're in London for a longer period of time, click here and check the old list too!
Oh… And I'm making it even harder for you and share the ones I still mean to try! 🙂 I have this list of places to eat I haven't yet been able to try and a Brazilian-almost-British-knows-it-all-about-London friend of mine, who's super picky, sent me. They'll have to wait until my next trip. Maybe you'll get there before I do, right? There you go:
NEVER BEEN:

Bob Bob Ricard: Beautiful restaurant and the tables have a button that says "champagne, please".

Isabel Mayfair: Super chic and cool! The bathrooms are incredible.

Oblix The Shard: Pretty touristy, but the food is excellent and I heard the view is breathtaking.

Balthazar: I've been to the nyc location so I passed it this time!

Berners Tavern: Perfect for brunch and the place is gorgeous!

Bistrotheque: For the more alternative ones, it's in East London, in a shed, pretty cool and great food. 

Granger & Co: Pretty great chain, always packed. They have locations in Chelsea, Notting Hill and Clerkenwell Modern Pantry – pretty good and cool – much like Sal, in SP.

Pachamama: Peruvian, great food and great atmosphere. 
Sexy Fish: A bit fancier, but the food is pretty good and the dessert is exquisite – Hazelnut Chocolate Fondant.

Casa Cruz: Gorgeous restaurant.

B&H: A bit more alternative, pretty people!

German Gymnasium: A wartime gymnasium-turned-into-German-restaurant. 

COYA: Amazing! One of my Brazilian-almost-British-knows-it-all-about-London friend. 

ROKA: This one was recommended by a friend who's also pretty picky. She said it's her favorite Japanese place and it's always full of beautiful people. She was crushed I didn't make it. 

I can say I have more than enough reasons to go back, right?

Another 13 restaurants for my to-go list!

And if you've been to any of those places or have another one to recommend, just leave a comment and we'll add to the list. Let's help each other! I do it from here, you do it from there and so the list grows.

See you next time, London!

Miss you already!

Top 10 * Restaurants in London
If there's something I did a lot in my time in London, it was definitely eating! If you've been reading this blog for a while now you know I'm a big eater, right? I really enjoy it. I just love getting to know a new restaurant, eat well and have some good wine… I don't know how to cook (yet!) but I'm really good at eating! Really good!
So I enjoyed my time in London and took a gastronomic tour… I tried again some of the places I went last year, when I was in town for the first time, got some tips from my cool londoner friends and done! One new restaurant a day, and, boy, did I treat myself! So good…
And this is a general post about the best places I've tried, so I'm telling all about it: the atmosphere, the audience, cost-benefit and of course, the food! Are you ready? A list of what I liked the most… Shall we?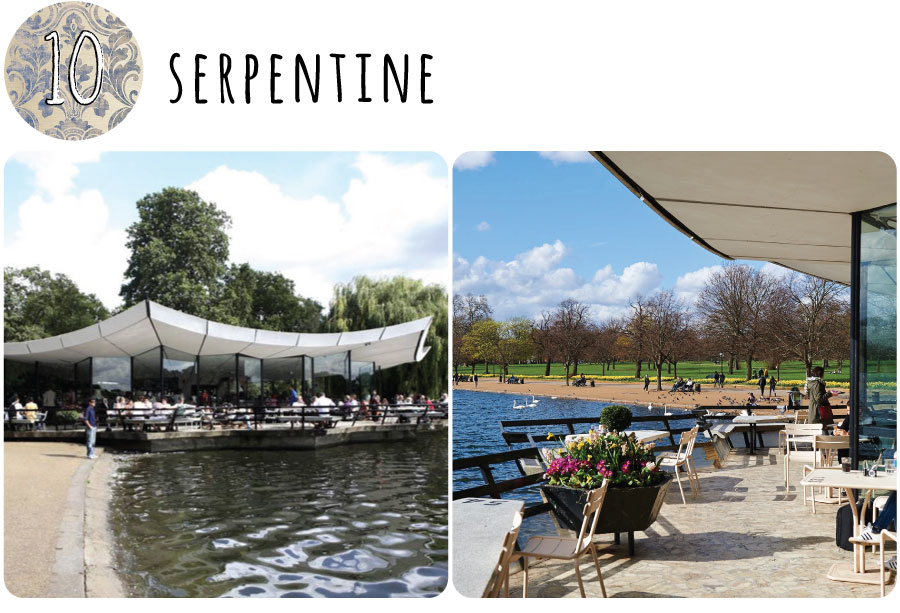 I mentioned Serpentine at last year's TOP 10 Things To Do * London, remember it? I'd been there before and definitely wanted to try it again. It's a really good time you have there.
Of course I was lucky enough to be there in a beautiful day (you can see by the sunset picture I took, right?), so I don't know if it would be such a good experience in a cold, cloudy day… But it's a must go! Even if just for a drink by the lake. You don't need to book it in advance, just arrive and get a table. The sunnier, the more packed! So it's always good to get there early.
Zuma is one of the many cool Japanese restaurants in London. Three out of the ten restaurants on this list are Japanese! But there are many more around… People there love some Asian cuisine!
You must book a table in advance. Especially if it's a large table. I went with just another friend, no reservations, so they sat us at the bar. Also great. Pretty good food. Beautiful people. Pretty hyped up. Loved it!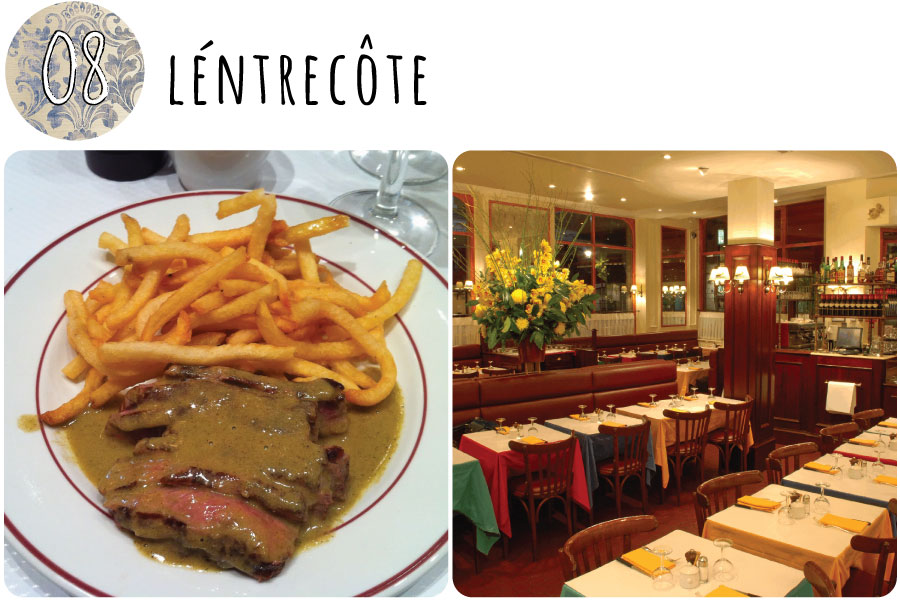 Le Relais de Venise "L'Éntrecôte" is that famous one-dish-only restaurant, have you heard? Steak with fries! The steak comes with this amazing sauce and the fries are the crunchiest ever… So you won't even order your dish, just say how you'd like your meat. Incredibly good. I went for lunch, it was full but no waitlist, and ate like there was no tomorrow…
Perfect for those days when we don't feel like facing a new menu or don't want to risk, you know? Definitely worth it!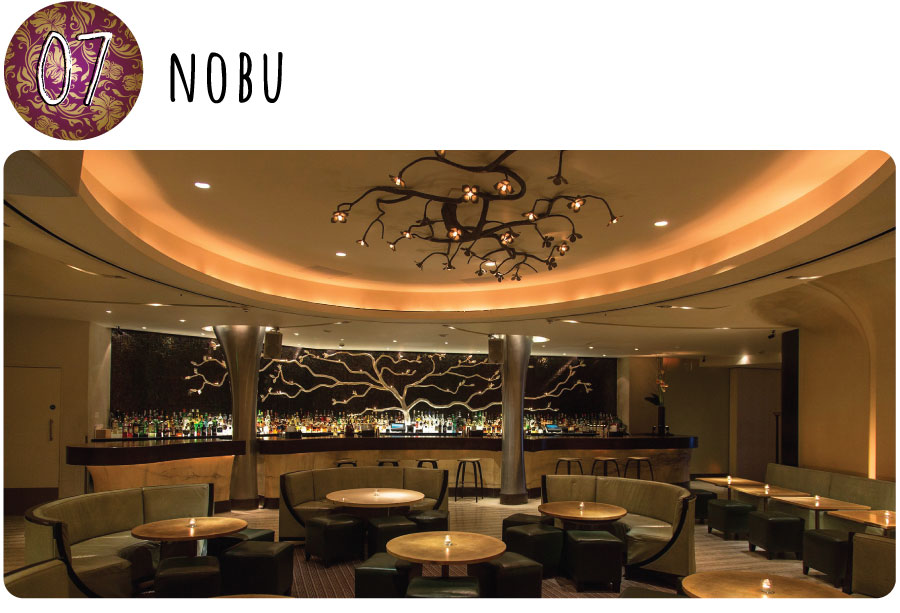 I guess Nobu needs no introduction, right? There are several locations all over the world. I knew the one in Milan and now was the time to try London's. Loved it. Went there twice. It's a super touristy restaurant, fine, but the audience is the best. Great for dinner before a night out. Delicious food. For those who enjoy desserts, try the Lollipops. It's an ice cream lollipop covered with chocolate fudge. I had five, ok? Super creamy treat.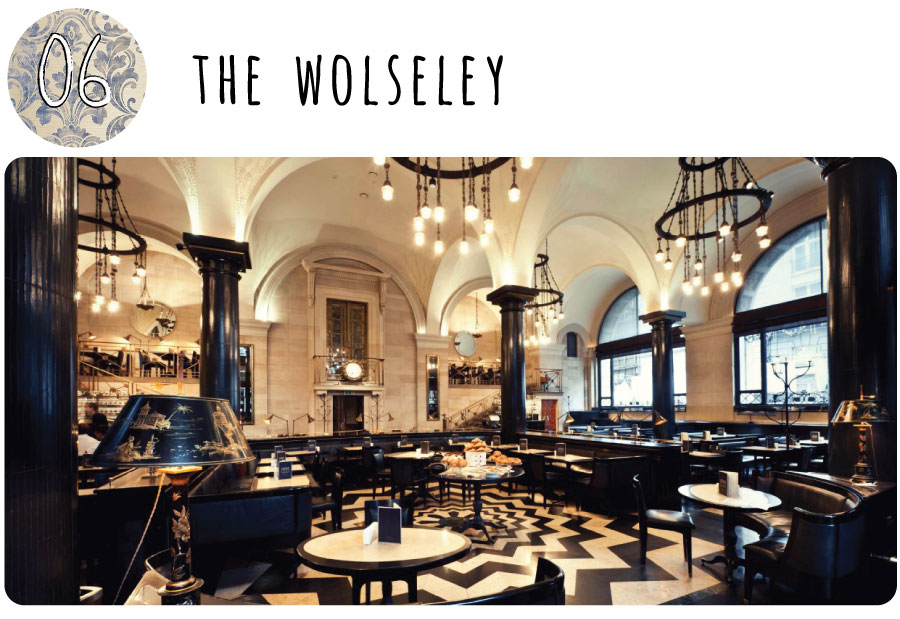 Since it's famous for being Kate Moss's favorite, I had high expectations before going to  The Wolseley. And (as most of the times), high expectations end up blowing it off…
The place is really beautiful but the food is just ok. We had lunch in a communal table, super lively, so we had lots of fun. It's always packed with beautiful people. It's very traditional-hyped up, so reservations are mandatory!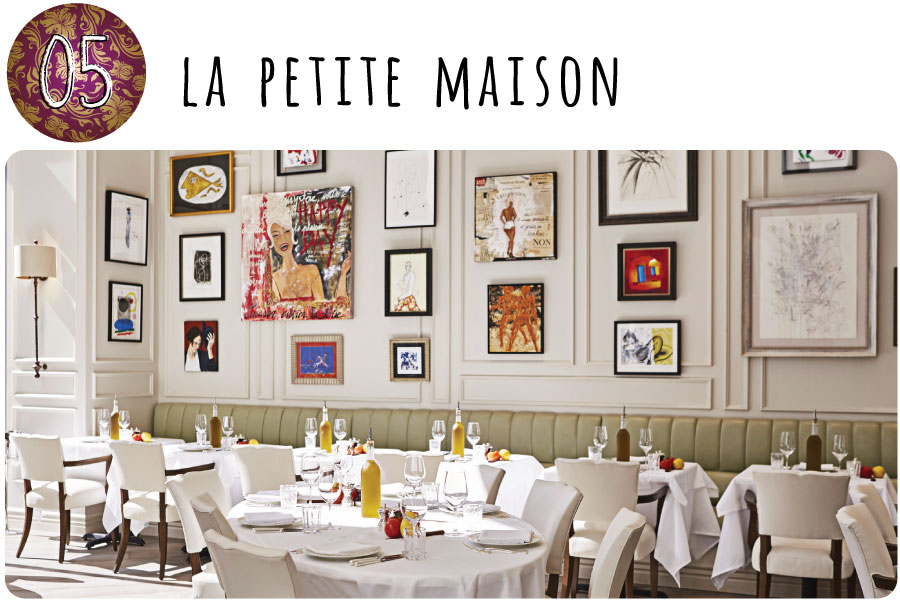 La Petite Maison is another super traditional spot. Kind of like The Wolseley. Delicious French menu. More for lunch than dinner, in my opinion. Save dinner for the most lively spots! And, yes, book in advance!
The cool spot of the moment! You have to book about a month in advance. Yeah, really. Literally the talk of the town. It's Mexican food. Pretty good. For those who like spicy food (I love it!), that's the right place. And the atmosphere is amazing… Low lights, super cool décor, great music and a small dance floor, to dance a bit after a few drinks or dinner.
So forget eat and run. Go enjoy yourself. Staying for drinks at the bar after eating is a must. Only young, pretty people.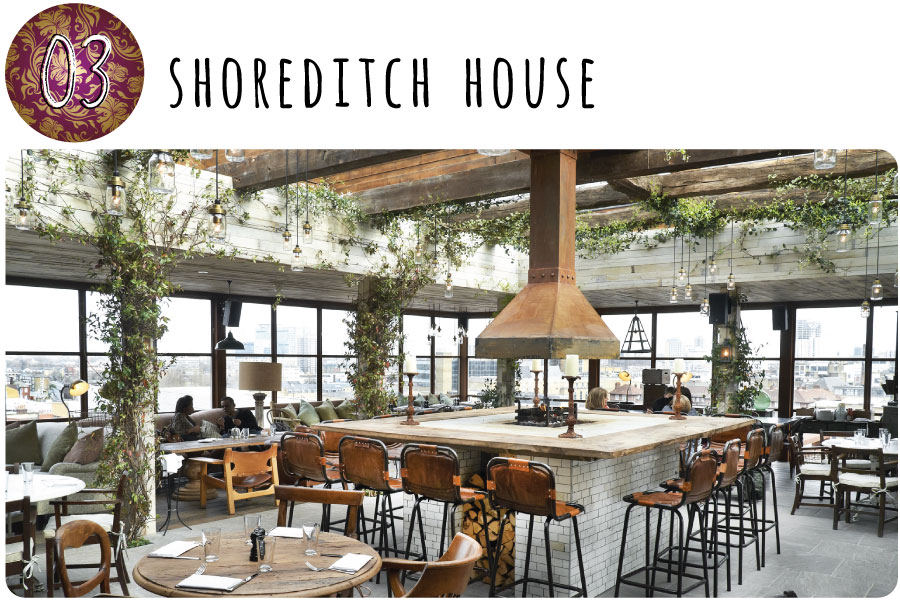 I'm giving this tip even if I know it's almost impossible to get in… Shoreditch House is one of the many members-only spots in London. Have you heard of that? There are several clubs in town, where you have to be a member or a guest to get in. Drama!
I went with a friend (who's a member!) and loved it! It's many thing in one. It's kind of far, in east london, but definitely worth it. There are three floors. A game room, a restaurant-slash-diner, a fancier restaurant and an incredible pool, mandatory in the summer.
Artists' spot, you know? More of an alternative crowd. Didn't love the food but loved the place!
Another Japanese restaurant on our list! It's on the same street as Nobu. One by each side. Novikov has two restaurants in one. An Italian and a Japanese. I went for the Japanese. Very, very good food. Best Black Cod ever. That fish is a staple to me… I tried it in all Japanese restaurants I've been to. I'm hungry just at the thought of it!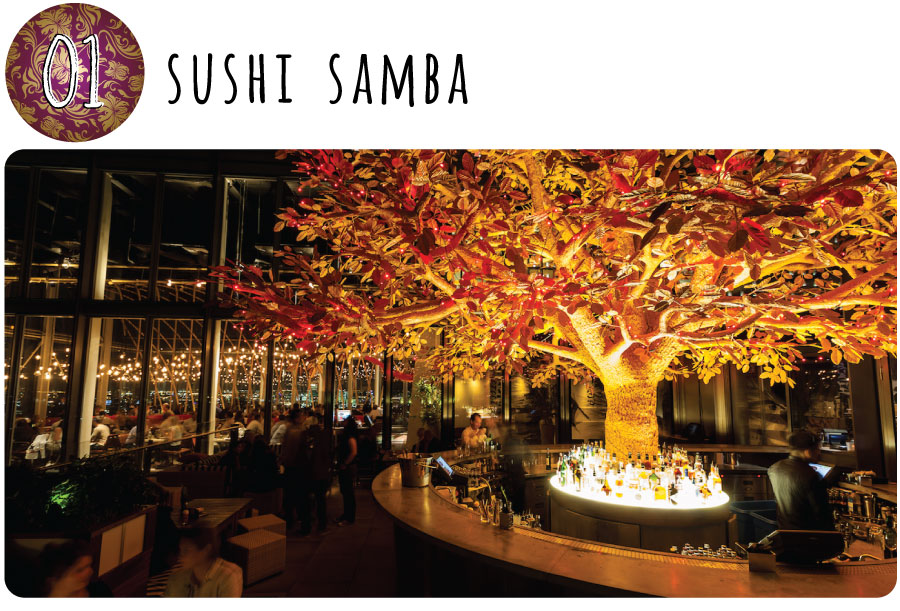 Like amazing!!! Everything is so delicious! And I've never seen so many beautiful people at the same place… Fantastic food. It's on the last floor of a very high building, all made of glass, outdoor bar, just incredible. Go earlier. Get there ahead of your reservation time (reservations mandatory) and go up for some cocktails. Perfect!
Wow, I guess that's it!
So, did you enjoy it?
Has anyone tried any of my suggestions?!
By the way, readers who live or have lived in London and want to add any address that didn't make it to my list, just leave a comment! I'll add it to my next list…
And for those who are about to go there, I hope to have helped with your food experience!
That's why I'm here for!
Top 10 * things to do in London
London was my last stop! My last 10 days in Europe were there. And they were special. Very special!
I knew beforehand that my encounter with the city would be pretty deep, intense… With that feeling we knew each other already, you know what I mean? And that's exactly hoinit went, 10 days of a serious relationship with the city. So beautiful… So urban and yet so poetic at the same time… I got lost wandering around several times… And I had the best company possible, my friend Maíra, who was born in Brazil but is a real Londoner. Lives there for seven years now. Good for me!
I've done it all. Seen it all. Walked around it all. That's why I enjoy staying a long time at the same place, so I can catch every detail. And now I'll do my best to bring all that into a mere top 10 for you guys… Hard task. And even if I saw that many stuff I still feel there is a lot left unseen…
Anyway, I have my whole life ahead of me, right? There you go:
London is full of museums and for the most part you don't have to pay to get inside, walk around (they're always beautiful) and see the collection. For the art lovers, I'll be a little redundant. I'm always in favor of seeing them all. But those who don't enjoy it that much (like some friends of mine!) should try at least TATE MODERN, the coolest of them all. Go up to their café for the view, you can see the entire London and St Paul's Cathedral from a beautiful angle. Too bad I lost my pictures. They were so beautiful… From the Tate you can cross the bridge and bump into St Paul's. That's where Princess Diana got married to Prince Charles. So, so beautiful… There is also a little mall in front of it, and it doesn't hurt getting in, straight to the rooftop for some nice pictures.
The Portobello Road Market is there on Fridays and Saturdays, the whole day. They sell all kinds of things there. But I really liked the little shops, behind the stands. I found some art and houseware shops that drove me mad! I recommend you walk from the very beginning of Portobello Road since the shops there are super cute. Dresses, cool tees, accessories. Basically got lost around there!
It's the Royal Family's residence, right? Peculiar, to say the least! It makes for some good pictures, and the guards start marching from time to time. 10-15 minutes I think. Don't know exactly. They make a kind of choreography. It's fun!
I was crazy for a bike stroll since Paris. Hadn't done that anywhere and in  London it was the now-or-never moment. One of the coolest strolls I did, so good! So I guess that's a good tip… To see the main tourist attractions and take some good pictures, rent a bike by the Tower Bridge, and ride by the entire length of the Thames. You'll pass by Tower Bridge, take a beautiful picture of the London Eye on the other side of the river, and get to Big Ben. Another good idea is to stop and see the Westminster Abbey (where William and Kate got married!) and the houses of parliament. Then all you need is the bike, camera in your pocket and just going round and round 'cause there is a lot to be seen.
It's so amazing that in London you can use your Oyster card for all kinds of transportation, including boats. It's definitely worth it! I took the infamous Thames Clipper at a pier close to the house where I was staying. The boat goes all around the river, and it's awesome to see the whole city from the Thames's perspective. My stop was in Waterloo, at London Eye! Ride the biggest ferris wheel in the world and have an insane panoramic view. Do I need anything else?
The place I loved the most! Really, really loved it. Street art all over and a street market, Camden Town Market, which is there every day but much more lively on Fridays, Saturdays and Sundays. Spend an entire day around. If you're anything like me, you'll want to go back and stay one more (or some more) day(s). I bought a lot of stuff there. I went crazy with that many peculiar people, so many types in an only place. That was Amy Winehouse's neighborhood. She spent her whole life there. It's really so her! More of a punk, grunge, rocker vibe. Strong! A little bit of everything. Gosh, I loved that.
Here is where I saw most of the street art. That's East London. Where the artists are. I went for the "Banksys" but most of it was already very damaged. People cover it up without thinking twice. So sad…
Another must-go is the Spitalfields Market. Another street market, a little fancier than Camden. Saturdays and Sundays only.
Super cute neighborhood. Feels a little like SoHo (nyc). Full of life, cute little streets, cafés, shops and flowers everywhere. Spend an afternoon there. Visit all the shops, have lunch, take another stroll, have a drink in another cool spot and stay for happy hour. Delicious!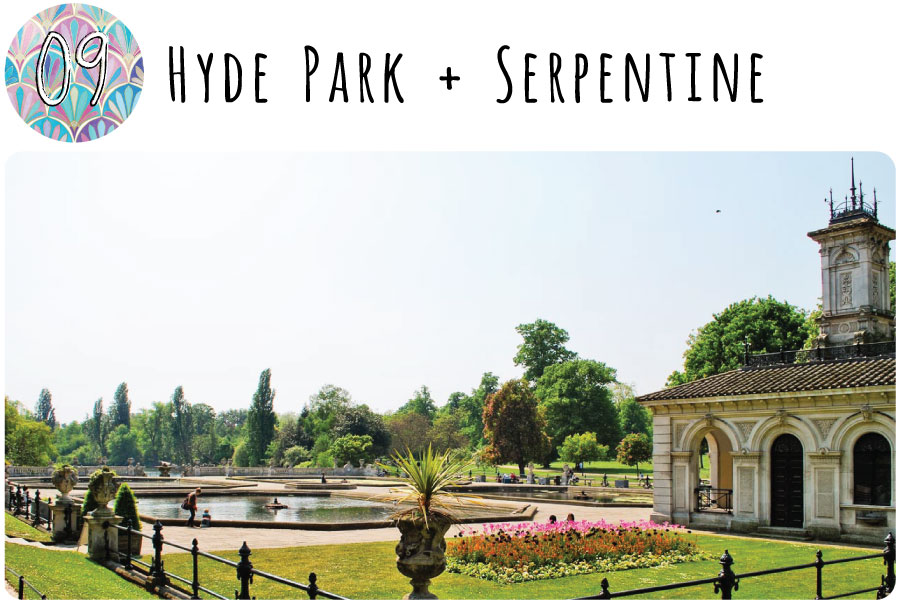 Largest park in Londres. So good… Great to sit there for lunch or just for drinks at the Serpentine, in the middle of the park, facing the lake. Enjoy yourself there 'cause it's really worth it!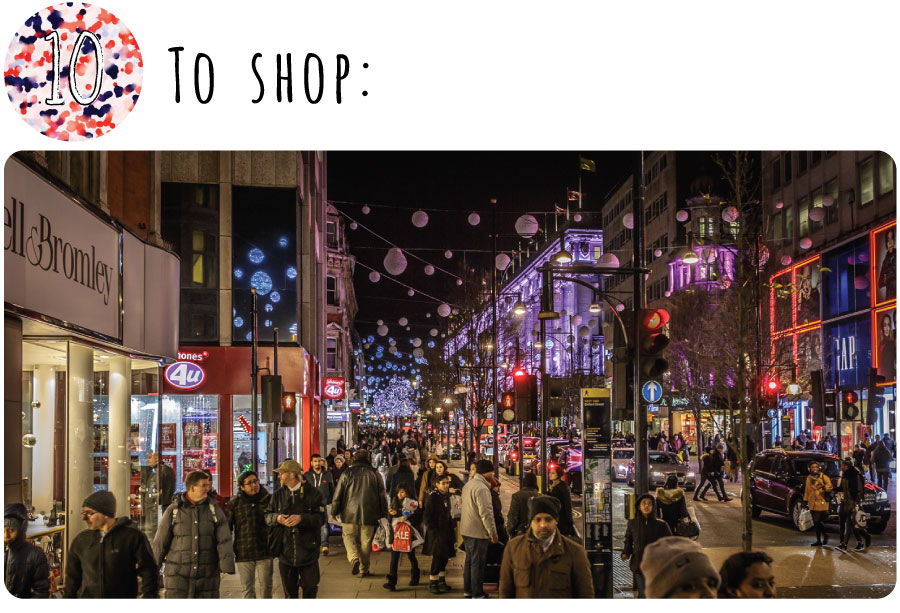 If you're looking for some fast fashion, at Oxford Street you'll find it all: Zara, H&M, TopShop, Forever 21, Mango, Urban Outfitters, Primark (the cheapest one! Almost a sample sale! I went nuts with the 1 pound shirts). Now if you're looking for the major labels, go to Bond Street, in Mayfair. Gucci, Prada, Hermés, Louis Vuitton, Chanel… They're all there. And there's also the large magazine shops, right? Harrods, Selfridges, Harvey Nichols, Liberty and Dover Street Market, where you can find all you need in an only place. Can't say there aren't enough options!
I guess that's it… Wow!
So if you have other tips you want to see here, just leave a comment! I met a bunch of readers who introduced themselves by the streets of London… So it's now time for you to speak from your experience, much larger than mine!
So if there's something I forgot to mention, please feel free to point it up, that's what the comments section is for!
See you on my next trip!
Art In London
You must be tired of reading here that, when I'm on a trip, I enjoy getting lost around the place so I can find myself, right? That I usually walk around aimlessly, intuitively, looking for something that grabs my attention and invites me in.
That was the case with Londonewcastle Project Space. A tiny corner gallery in East London. Btw, East London was one of my favorite places to wander around… But more on that in my Top 10 London. I'll definitely write about it.
So I was walking around and spotted the gallery door, with a cool crowd around it, and I decided to get in. They were hosting an exhibition by French photographer Gerard Rancinan. I had never heard about him. I liked the title (WONDERFUL WORLD) on the spot, so I got in. And I loved it. The guy makes an analogy between the real and the fantastic worlds. I even got it as a sort of protest for us to be so immersed in implicit patterns set by the "artificial world". The photos speak for themselves… Check it out: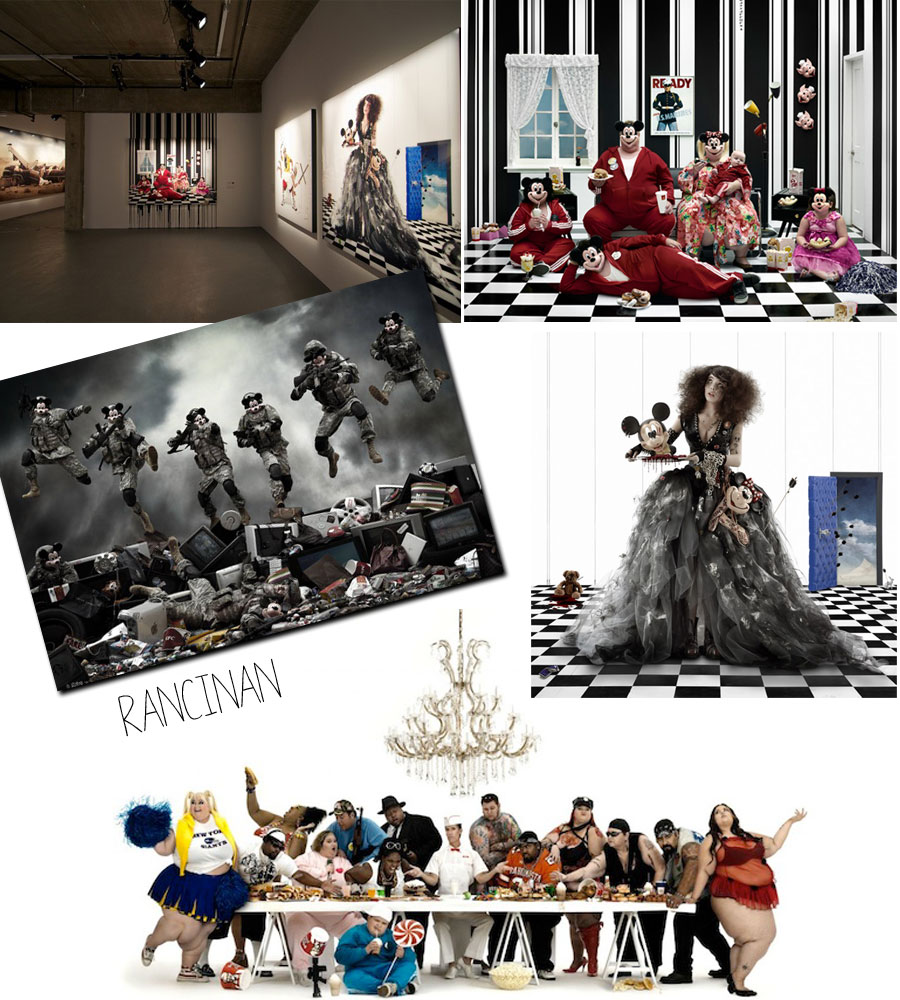 I ran into Rancinan there! We talked a bit, I congratulated him. I thought the guy was a genius. And so nice… Approachable!
If you're in London until June 24, come take a look! I enjoyed it very much.
And since I'm on that subject, I'll talk about another exhibition I went to see.  Nina Pandolfo. I've talked about her here, remember? So… One of my favorite artists, whose pieces I dream of having in my room.
It's a tiny exhibition, but really worth the visit… On Lazarides until July 5. That's another super cool gallery, which, if you enjoy art, it's a must. And I brought a bit of what I saw for us: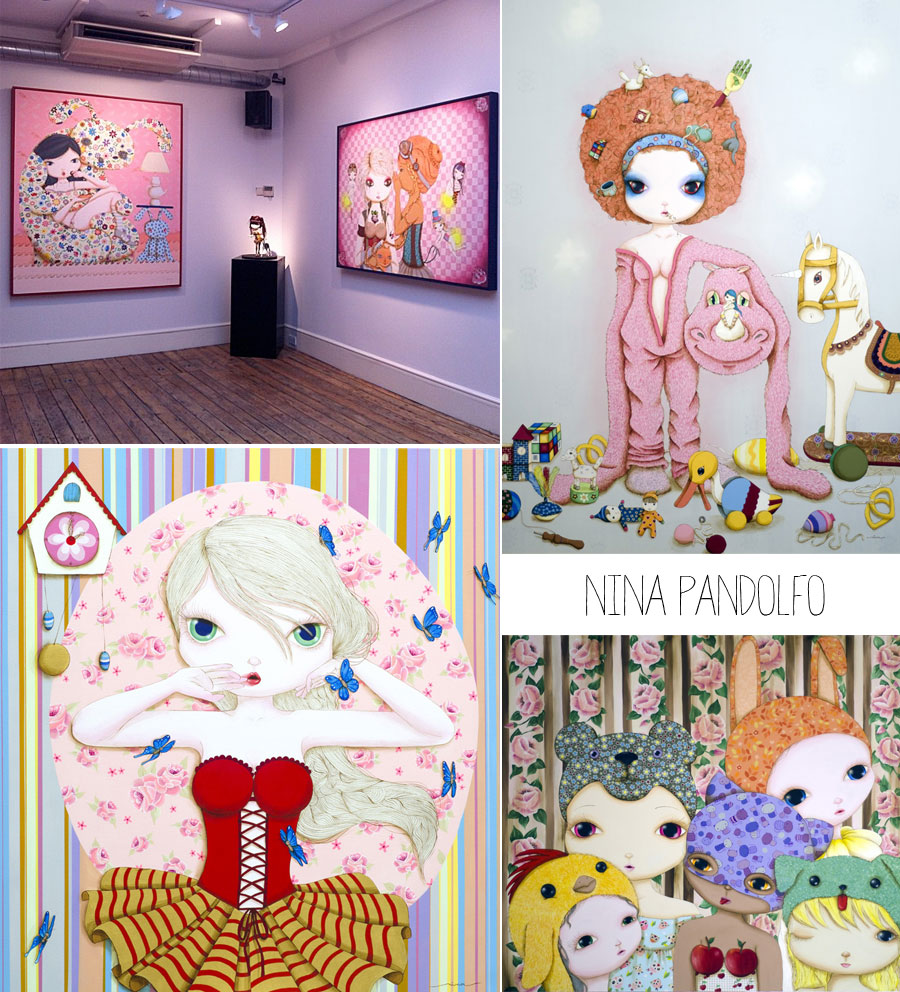 Love, love, love it! So me… So perfect for my room!
Now I'm off… 'Cause today I'm going to Tate Modern for the first time! The trip is coming to an end and I start to feel the blues…
I'll be back soon with more news!
A nice week for us all!
Ben's Cookies – The best in the world!
I'm a cookie addict. Like, really. Hardcore. The only thing that beats it is brigadeiro. Which is the top of my food chain!
But the cookie… Oh, the cookie… It's almost a draw. In fact, I've been eating more cookies than brigadeiro lately. Maybe because it's so easy to find the most amazing ones at every corner here. I guess that's not so easy in Brazil… Don't know! All I know is that I've been eating a bunch of it… A lot of delicious ones. Of all sizes. Fillings. But none of those (so far!) has beaten the good old Ben's!
Has anyone tried it? Have you heard about it? It's older than me! The brand exists since 1983.
It's a chain with stores all over Europe and Asia (they don't have U.S. or Brazil locations yet :/) which has the BEST COOKIE EVER. No kidding… I swear! It's unbelievable…
So I decided to forget about nyc for a moment and change the subject here. Ready?

If you've ever been to London, you've probably passed by one of those little red doors!
You may have not paid attention, walked by on a rush (I almost did! I was dragged inside by a friend whom I don't know if a love or hate for that!) but it's almost impossible to miss one of those. They have over 10 shops. All over the place. They're stronger in London and Seoul (capital of South Korea, which makes the visit a bit more complicated!). And it's out-of-this-world wonderful.
I'm completely crazy about the milk and white chocolate chunk flavors.
I buy it in boxes, always. To have it throughout the trip and then bring some to Brazil.
And, well, I don't even have much to say – it's the kind of thing you have to try, for words are not enough to describe it…
You must have a bite.
It melts in your mouth, but it's crunchy at the same time. Contains enough chocolate for us to enjoy, but not over the top that makes us feel sick (or miss the cookie!). It's unbelievable…
Those who have tried it please help me with the adjectives on the comments, since I'm missing the words here!
I've tried SO MANY other flavors and brands around here. Again: there's a bunch of good stuff around (and bad stuff too: when the cookie is served kind of floppy, mushy, you know? Makes me wanna die!). But nothing, nothing at all, has come close my beloved Ben's.
If you're in London or Seoul, please have one for us! So jealous of you having this treasure at every corner!
If you haven't tried it (and you're neither in London or Seoul!) put it on your to-do list ASAP!
And here I am craving it…
No doubt it will be my first stop when I'm back in London!
Counting the days!
😉
Matisse at the Moma
Art overdose around here, right? Yeah, I know…
And I also know that this is not the most popular post subject among you guys. On the contrary… That's the kind of post that receives fewer likes and comments. I don't know if it's because you don't have much to say or are just not interested. Only you can tell me…
Anyway, I just can't go without talking about it!
I'm not an art expert! I'm far from that and I've said it several times. I'm just like most of you. My relationship with art is limited to looking and finding it beautiful or not. Looking carefully. With love. Reading a bit about the artist I'm about to see. Going briefly through his story. Grabbing a friend who's more of a connoisseur to go with me, or just an audio guide, really, and dive in. Seeing if it speaks to me. If it touches me. If it makes me flow.
I love the environment. Museums are for curious people. Interested people. The exact kind I want to be around. People who might not know a thing about the subject, but takes the invitation and goes for it. That works for everything in life. That's how my days go… I wake up and think: what can I do for myself today, you get what I'm saying?
Of course, living in NY really helps… But I guess that, when you're interested, the place you're at doesn't matter much. It's really about ourselves and what's inside us. So I'll never be able to make someone who hates museums feel like trying it. I don't even have that ambition. I really don't! But I'll keep sharing with you guys the exhibitions I visit (only the best ones, I promise!) so that even those who are not very much into it can know what's going on in the art world, you know? A tiny bit (to be really humble) of knowledge. Culture. Sharing what I just received. I don't know… Trying somehow to bring this world closer to those who don't know it and are curious about it, but don't have the opportunity to get to it. Or sharing it with those who do know it but won't be in nyc while the exhibition is on. Basically just sharing my feelings and thoughts (and those things only!) without any special authority on the subject. Really just to share. After all, that's what I'm here for, right?
That said, let's move on to the exhibit I went to see yesterday at the MoMA.
I don't know if I've said that before, I probably have, but MoMA is my favorite museum in nyc. I just LOVE their permanent collection: Dalís, Mondrians, Monets, Fridas, Van Goghs, Warhols…
LOVE it! So I went to see the exhibit of Brazilian artist Lygia Clark last month and spent an entire Sunday there. Seeing everything again and again, in details. So many strong pieces! Must go. Mandatory!
And then… I went back there yesterday! Out with Lygia, in with Matisse. That's what I'm here to talk about.
The exhibition"Henri Matisse: The Cut-Outs" was a hit even before getting to nyc, due to its huge success at the Tate Modern, in London. Endless lines. A real smasher!
Same here in nyc. You have to arrive early, get your timed entry tickets and still wait for a little while in line before you get in. That's how crowded it gets!
But it was worth every minute and dollar spent!
Henri-Émile-Benoît Matisse (1869 — 1954) was a French artist who dedicated himself almost exclusively to collages.
According to a very nice guide who was leading a group of Chinese people (I'm always paying attention to other people's guides, since the museum audio guide doesn't go through all the pieces) said he was, along with Picasso and Duchamp, one of the three most important artists of the 20th century.
He used to paint on paper sheets, mostly birds, and then cut it, assembling different organic forms into rich, simple combinations. That's the phase the exhibition focuses on. His last working years. And there are over 100 pieces from that time, the most important of his work. The biggest reunion of those pieces!
I didn't know much about it… And I was astonished!
Listening to the introduction and explanation of each piece at a time certainly helps, right? Makes you understand and pay attention to things you wouldn't notice were you wandering aimlessly around the exhibition. That's how I fell in love with Matisse, little by little. Painting by painting. There's a video of him in one of the rooms, which I spent some minutes gazing at. It shows him working. Cutting the paper molds he used to hang on his studio walls. With his sharp scissors. Playing a ballet with his hands.
This was the first time these paintings from the Blue Nude series were hung together in the same room. All on the same wall. They are variations on the female body, cut by Matisse's own hands! I was just dreaming of sending them all to my place…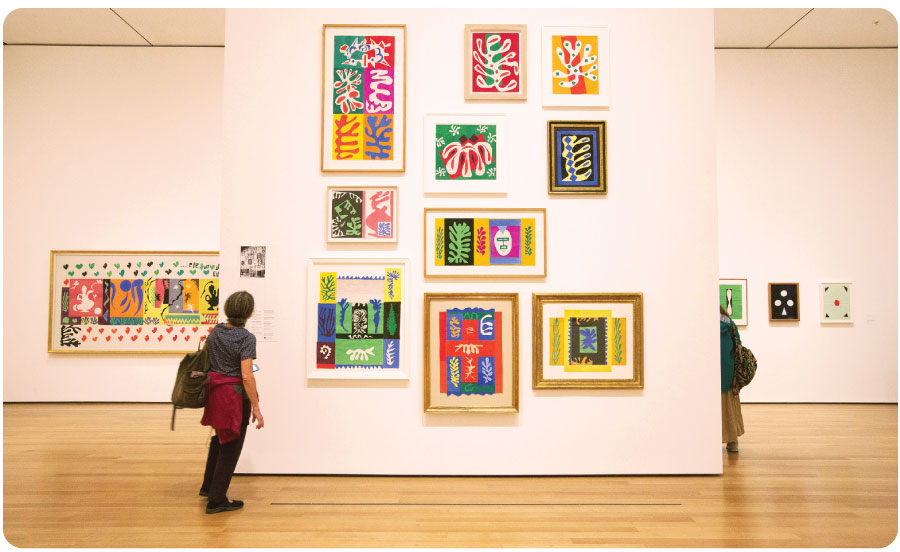 All the pictures were taken from the MoMa website and other websites since it's strictly forbidden to photograph the paintings!
Another artist for my list of favorites!
Thank you, MoMA! I owe you one more!
Top 10 * Restaurants in NY
I did my first Top 10 (which turned into a Top 15!) restaurants in New York by the end of last year. It's funny that for the first one and a half years of this website I've just been to Europe. Almost didn't mention nyc here. I only did that last fall, when I spent 10 days there (and decided I should stay for a longer while in the city) and did the Top 10 things to do and the Top 15 restaurants at the concrete jungle. 15 restaurants in 10 days. Good enough for you guys?
Can you imagine how it's been now? That I've been spending a whole season here? The restaurants are endless… So I thought that each time I get to know another 10 new restaurants I should make another Top 10 for us. What do you think? Confusing? I guess not, right?
Or you'd rather I wrote one by one, just the best of the best? A less-is-more approach? Like what I've been doing with our #Restaurant tag, about Brazilian places? So I can hand you more details, menus, prices, pictures, and so on. What do you think? I'm not sure either if such detailed posts about such distant restaurants would be too exhausting. I don't know. Will you help me?
You decide it and I'll take it!
But while we don't set this up, I'm bringing a whole new Top 10 with my new favorites. Ready?
Pretty hyped up, modern bistro! Perfect restaurant if you're in for something bold. The menu is pretty exotic. Wanna try some rose petals? Pickled duck? Just go for it. You won't find ordinary dishes at this place. And the food was delicious! Even if super exotic!
There's also a small club downstairs which is pretty hard to get in, but it's worth trying. Beautiful people and good music! Of all kinds!
CONTACT: acmenyc.com
Delightful place! It's a hidden spot. In a dead-end street. You'll never be just walking around and bump into it. You really have to look for it. It's supercool. Dim lights. No-frills menu. I had a homemade-style chicken with spinach.
Also nice to try their Sunday brunch, which is delicious!
CONTACT: freemansrestaurant.com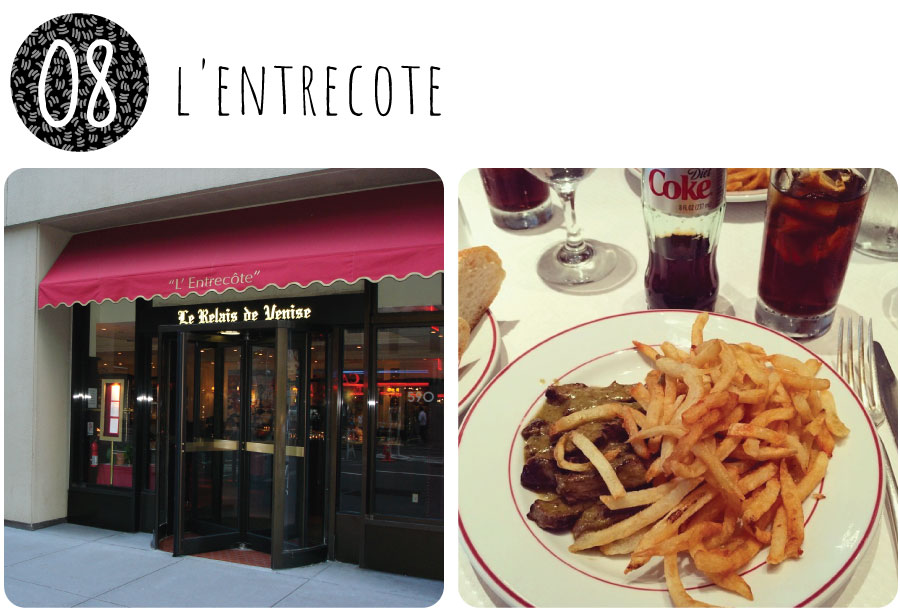 You've had enough of me talking about L'Entrecôte here, right? Everywhere I go I look for one of those. It's that restaurant where you arrive knowing exactly what you're going to have, since they have an only dish: steak with some amazing sauce and fries. And they have one in nyc. Of course it had to make it to my list!
CONTACT: relaisdevenise.com/newyork/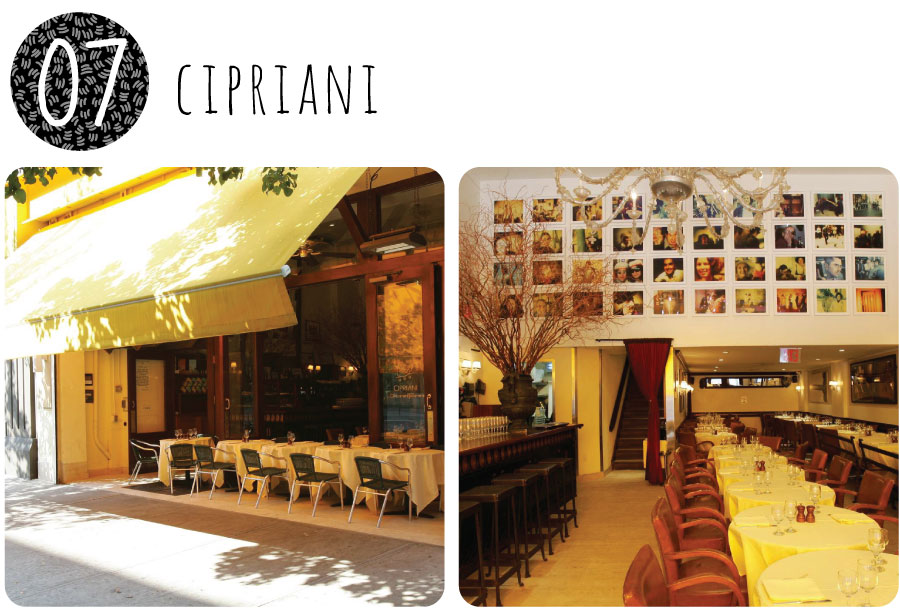 Pretty well-known, hyped up restaurant. The fancier crowd (if you know what I mean) always stops by when in town. Since I see myself more as a part of the laid-back crowd (if you know what I mean as well), I had never been there. But one of those days a friend of mine who was in town suggested we went there and I loved it! The decoration is amazing. Perfect Italian spot. Wanna please me? Take me to an Italian place. The chances of going wrong are close to zero!
CONTACT: cipriani.com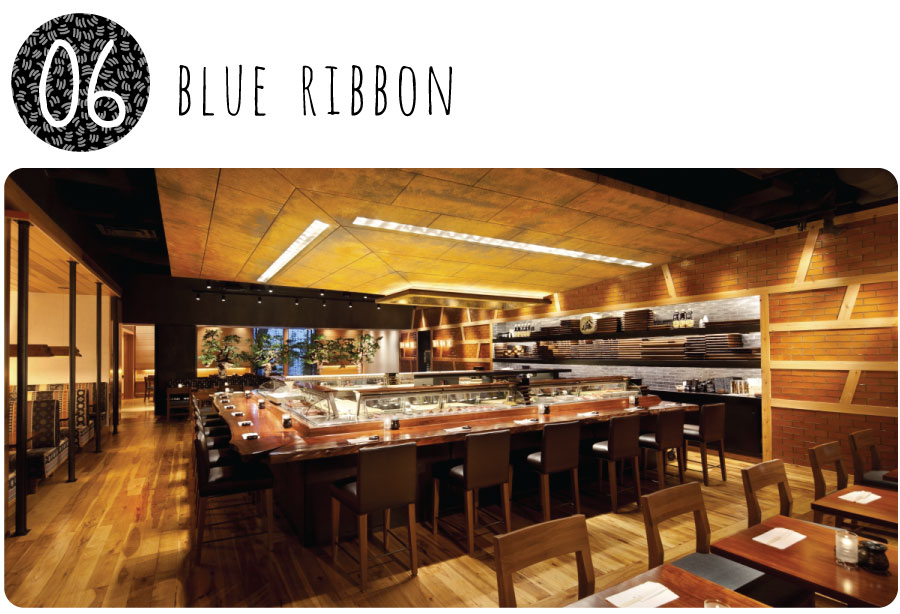 This Japanese place won me over! Easily made its way as my favorite Japanese spot in town! Just love it. They have some divine spicy tuna and spicy lobster sushis! But it was their black cod that really got me. Some days I'll catch myself craving it and I'll stop by just for that fish. It's really worth the visit!
Oh, and they're open until 4am. Something hard to find in Manhattan. So just go!
Also, they have several locations around the city, and some aren't even Japanese. So go for the SoHo (Sullivan street!) location!
CONTACT: blueribbonrestaurants.com
Do you enjoy some Mexican tacos? Labneh? Tabbouleh? Greek Salad? So get ready to treat yourself to some amazing food! They have two locations, one in Brooklyn and the other one on West Village, I think. I've only been to the Williamsburg (Brooklyn) location, a few times actually. About four times since I got here. You can see I loved it, right?
I always order a bunch of appetizers for the table, and don't even get to order a main dish. Appetizers for everyone to share. Amazing! And for a great price! I don't know if that's because I only have appetizers – they're US$ 5 each so even if you order two of each one they have (which are many!), it's still pretty fair. Anyway. I'm always pretty satisfied with the food and even better when I get the check!
CONTACT: cafemogador.com
Now that's a fancier spot. New and pretty hyped up. Large. Beautiful. With some amazing cocktails. Enjoy some spicy food? So get ready 'cause they're pretty serious about it around there! Love it! A good opportunity to take your heels to see some light, and don't forget to book in advance to save spot.
CONTACT: toro-nyc.com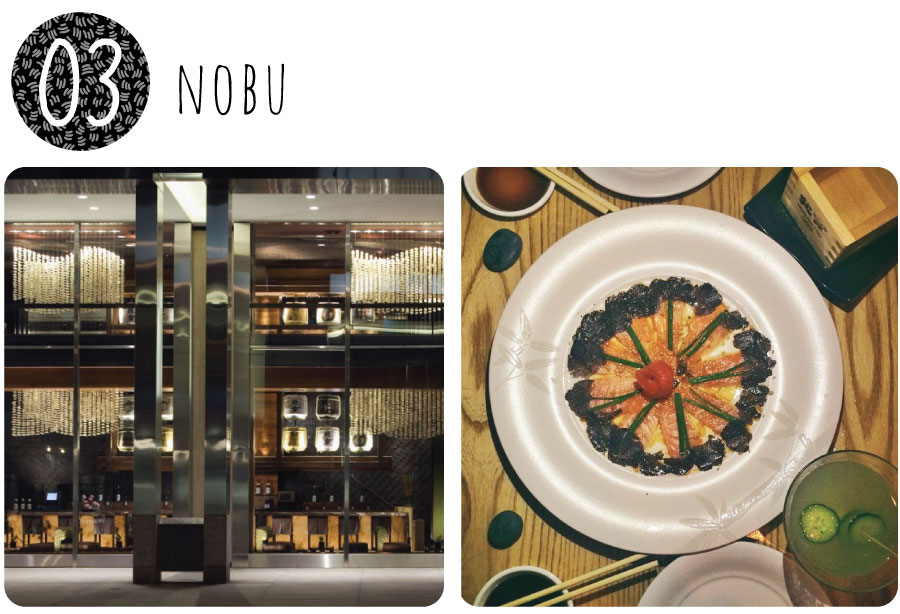 Nobu is another no-brainer, right? I've mentioned it at Top 10 Restaurants Los Angeles and Top 10 Restaurants London. Always mandatory, no matter where I am. Considered to be one of the best Japanese restaurants in town, the presentation of the dishes is always incredible. Just be ready for a pretty pricey bill! That's everybody's complaint.
CONTACT: noburestaurants.com/new-york/
A must-go for the Chinese food lovers! I'm a regular at the one in Rio and in nyc it couldn't be different. I always go for their complete menu, where you get a bit of everything and basically have to untie your belt when you're finished.
I must say it's not one of the cheapest places in the city either!
CONTACT: mrchow.com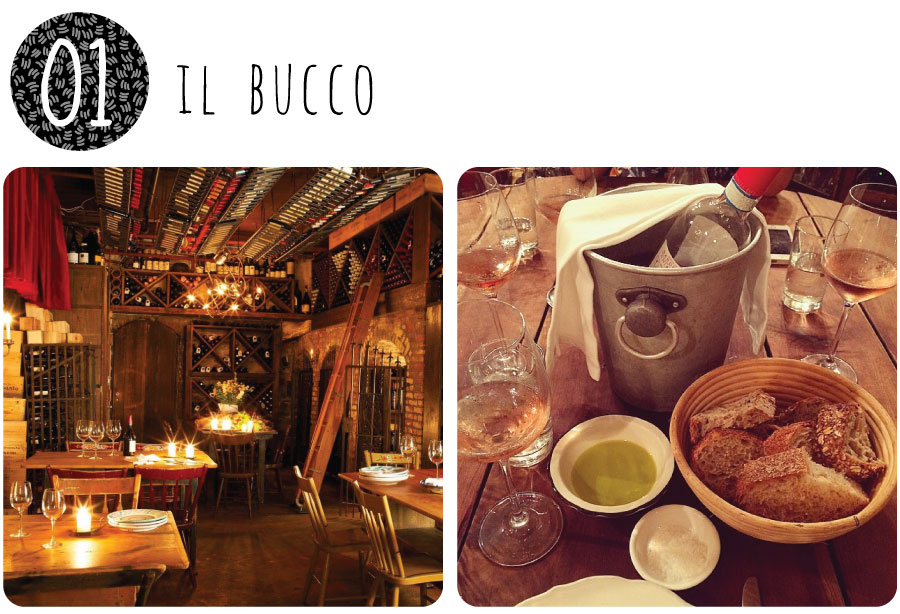 Amazing Italian, recommended by a friend, really got me. Pretty fair priced wine menu. Super cosy place, delicious and sophisticated food. Oh, and they have an olive oil tasting (I just love some bread with olive oil and salt as an appetizer) which is super worth it for those who enjoy it!
CONTACT: ilbuco.com
So far so good…
A bit of the many calories I have ingested since I arrived in town…
And the list goes on… I have another four places on hold to share with you. I'll just wait for our decision: one by one? Or wait for the next six for another Top 10? What do you say? Huh?
My All-Time Favorite for Lunch!
I'm writing the title for this post with a pinch of salt. That thing I always say about expectations being the first step for frustration. But the deal is, every time I try and think about my favorite restaurant ever, I can never answer straight away. I love to eat and I love getting to know new places (if you've been a reader for a long time now, you're probably tired of me saying that! But it's the truth!), which means I have a favorite for every type of food. A few different favorites on my list.
But then, answering some interview questions for a London-based magazine last week, I had to recommend a place to eat in Brazil. A single one. Gosh… I got trapped. So I ended up talking about Ritz. My favorite for lunch! When I say it like that ("for lunch"), I guess I softens the responsibility of being "the best in the world"! So let's get to it…
You've definitely seen pictures of their rice balls on my instagram. Most definitely! Every time I'm back in São Paulo I'll schedule whatever my first meeting is there. Or a date with friends. I might even go by myself in between appointments. There's no Ritz in Rio (what are they waiting for?!) so I'm always dreaming of their rice balls. And the relish (that bittersweet delicious thing on the side). I joke I eat relish with rice balls. That's how much I enjoy it.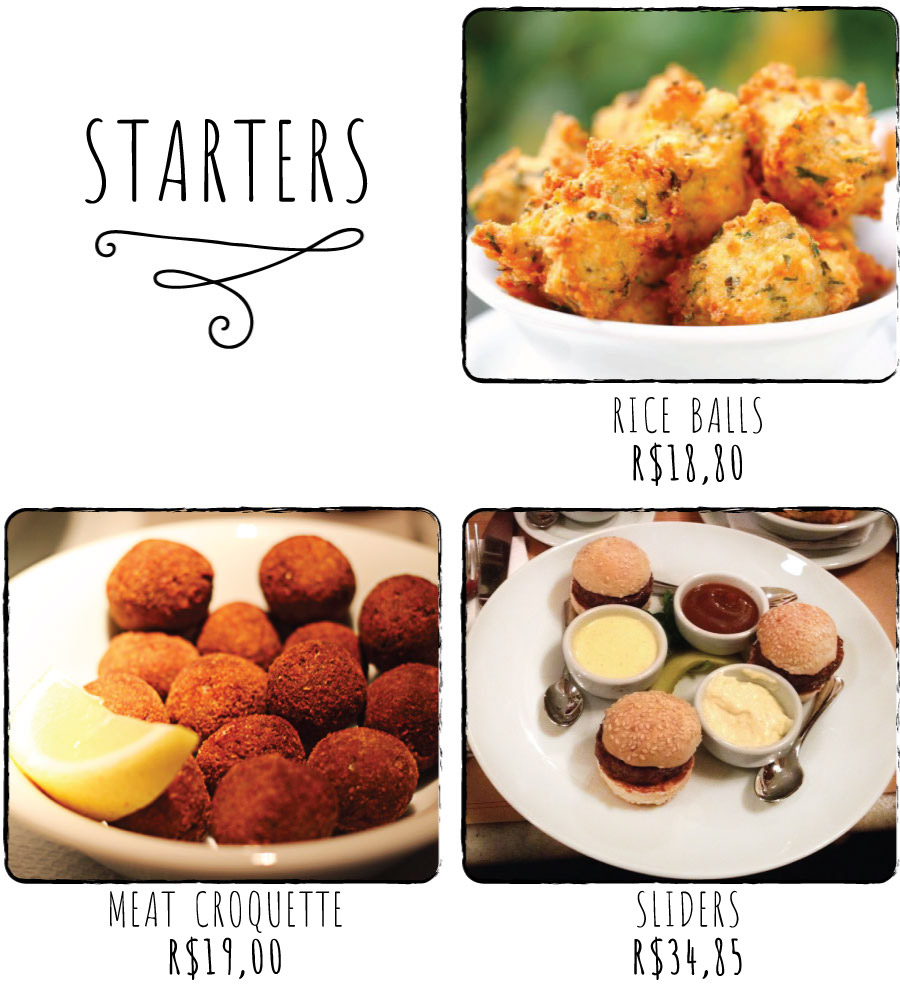 Then, when there are more people with me, I order the sliders (amazing!) and the croquettes. It's all so, so good. Now, the rice balls are, to me, the best appetizer ever (along with Guimas brie fried pastry and Bar Pitti's burrata, in NY!). A good idea is to order the portion with twice as many balls, only smaller in size. They're crunchier. I prefer it like that! My mouth waters just from talking about it! Gosh…
My #1 on the menu is the breaded steak with spinach cream and fries. In the beginning, I used to swap the cream for something else. Until the day I decided to have the dish with the original side. And I never changed swapped it again. So good. So, so good. And their fries are special.
For the healthier eaters, I also love and recommend the tenderloin with parsley butter and mashed potatoes. The meat melts in your mouth. Gosh… I'm dying from writing all that! It's making me crave all those stuff, and I'm away from São Paulo now! But let's go on…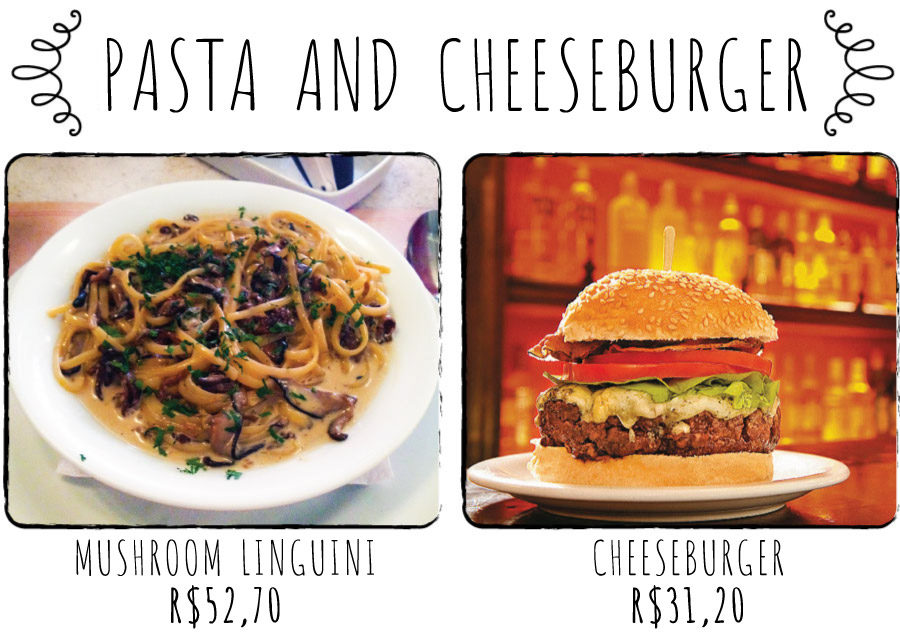 To make my list complete, some pasta and burger for those who enjoy some trashy (and delicious!) food!
Mushroom linguini, wow! And their burger, which has been awarded as the best in town. I like the cheeseburger (with melted cheddar on a sesame bread, how about that?), but I usually just have the sliders for starters. It's so hard to let go of my breaded steak! Sooo hard…
Phew! That's about it! They're crowd pleasers, as you can see.
Meat, pasta, hamburger… They also have a bunch of salads, quiche… I haven't had any of those though so I can't say much. Ohhh, also very important: STRAWBERRY CUP! Soooo amazing! But they only have it in strawberry season. So fingers crossed for them to have it when you go there. It's the icing on the cake. You'll think of me!
😉